Video Editor and Maker Apps for Android
Previously, video editing and video making could only be done on a computer, the steps are very cumbersome. Unless you are a professional, it is difficult to master the technical know-how and create cool videos. However, with the change of the times and the development of technology, developers have developed many great video editing applications, enabling users to edit and produce videos directly on mobile phones, eliminating those tedious steps, and achieving amazing results with only a few clicks.
1. VivaVideo
With the help of this free video editing app, you can work with images and videos and create video montage on your Android mobile phone directly. The main menu of VivaVideo consists of free video editor using which you can select whichever video you want to pick or record directly from the app. You can as well directly go to the montage phase with the help of videos and photos. If you want to do video editing then the montage will open up options for you to select the images and video you would like to add to your new video.
You can start using the tools available on the video maker app after finalizing the multimedia material you want to use for making a video. VivaVideo gives you the options to cut and paste the videos or adds various types of cuts, fades and similar other transitions, apply filters and more. This video editing tool is quite comprehensive and helps you to achieve some very surprising results. It is also possible to automatically share this video directly on the YouTube.
2. VideoShow
An Android video editor that assists in creating fun movies with the help of videos that you have already shot and stores on your mobile phone. With the help of this app, you can apply various filters such as style color profiles similar to Instagram and give the videos a cooler or warmer effect with the black, white, or sepia tones. You can use this movie maker app to make subtle changes such as adding subtitles to the video or for making changes in the audio. In addition, it allows you to choose appropriate options present within the editor and make the necessary changes.
3. InShot
It is a photo and video editing app that helps you to improve the final result for any video, making it just perfect for uploading on Instagram. You can improve pictures and save the edited videos in Android device's memory using InShot. The video editing section of this app comprises of innumerable interesting tools. It is possible to center and enlarge an image that has been recorded in a vertical format. Other options include applying filters, adding music, inserting text, and even adding emojis. After you have completed editing, it is time to choose the quality that you would like to save for the video.
4. KineMaster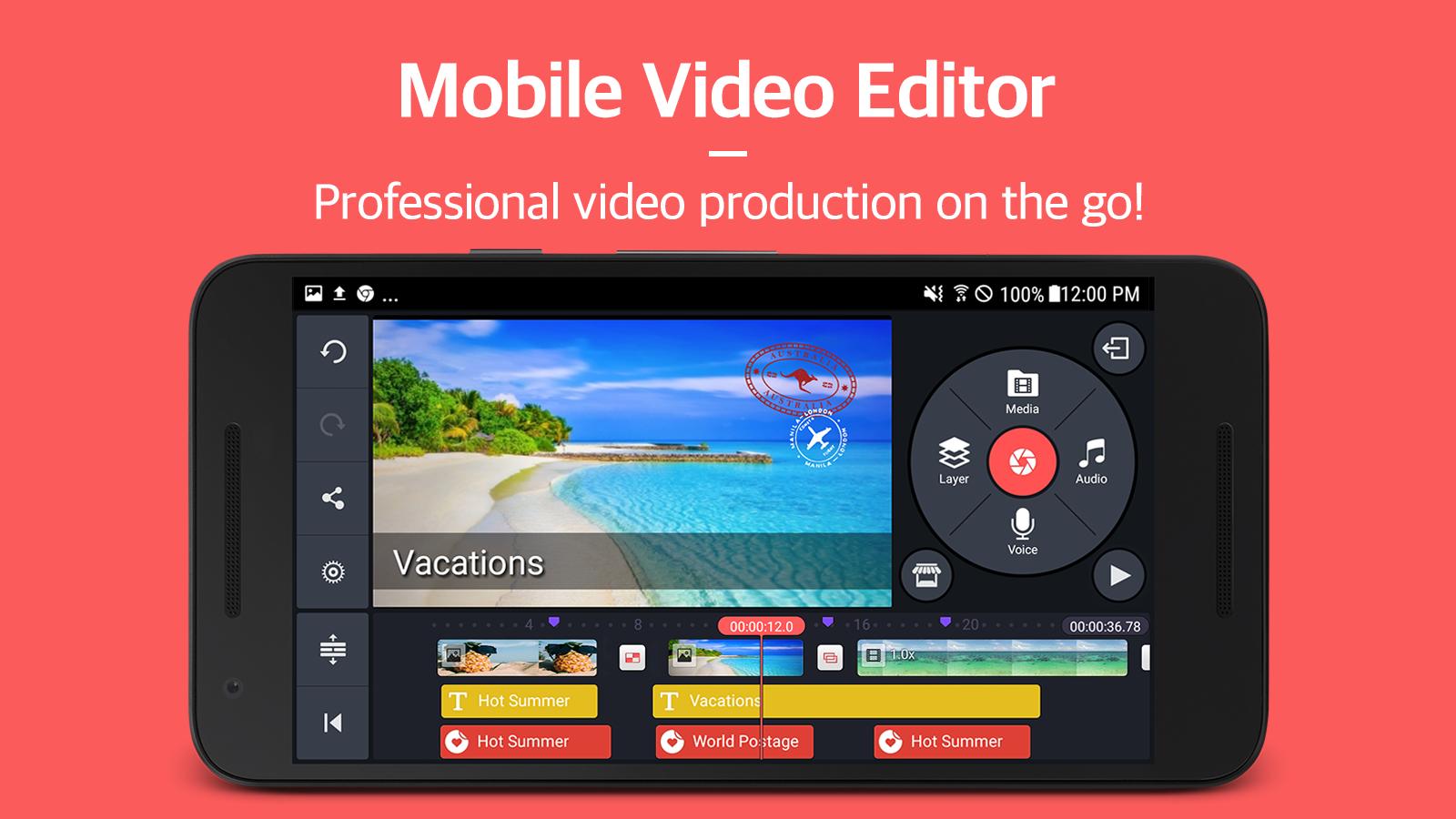 If you're looking for the best video editor for your Android phone, KineMaster will be your choice. This app offers some wonderful features, including precision editing, instant preview, multi-track audio, multiple layers, color adjustment, speed control, chroma key, pro audio features, voice recording and many more. With its precision editing, you can trip the video clips and layers precisely with frame-by-frame granularity. You can adjust the sub-frame accuracy with the audio clip timing.
5. PowerDirector
It is the best free video editing app that offers professional-level video editing tools and production options for the creators of all the levels. Irrespective of whether you are editing in Ultra HD 4K or 360 Degree or even using the latest format in the media, PowerDirector works as the definitive solution for Windows video editing for both professionals and beginners. It is one of the most used mobile apps for bridging the gap between the consumer looking for ease-of-use while editing a video as well as a professional.
PowerDirector is loaded with multiple tools that assist you in creating a highly compelling digital flick with effects, titles, and transitions.